FREE SPEECH is the "negative feedback" that every system requires. Absent "negative feedback" systems become unstable. -- Enver Masud

John F. Kennedy, "President and the Press," rev.com, April 27, 1961

Avi-Jacob Hyman, "A Draft of a Legal Policy Paper on how to Deal with the Dissemination of Racist and Holocaust-Denial Information via Electronic Media, particularly the Internet," eff.org, March 1995

[The FCC replaced a 30-year-old equal employment opportunity (EEO) program that was struck down as unconstitutional in 1998 by the U.S. Court of Appeals for the District of Columbia. "Under the new system, the FCC will require broadcasters to have an active outreach program for hiring women and racial minorities. The companies will have to publicize job openings widely to ensure that minorities and women hear about and can compete for the positions."-- John Schwartz, "FCC Unveils New Rules on Hiring," Washington Post, January 21, 2000]

"The Big Ten," The Nation, January 7, 2002

["Two commissioners at the Federal Communications Commission asked for a 'public airing' before the FCC votes on controversial rule changes on media ownership."--"Two FCC commissioners seek to postpone vote on media ownership rules," AFP, May 14, 2003]

Consumers Union Comments in the Federal Communication Commission Proceeding Considering the Newspaper/Broadcast Ownership Rule

Robert W. McChesney, "Making Media Monopoly Part of the Constitution," CounterPunch, May 16, 2003

Frank Ahrens, "FCC Eases Media Ownership Rules: Party-Line Vote Clears Way for More Consolidation," Washington Post, June 3, 2003

[Three anonymous political appointees to the Federal Communications Commission have delivered a body blow to American democracy. . . . a single company could influence the elections of 98 U.S. senators, 382 members of the House, 49 governors, 49 state legislatures and countless local races.

Employing another strategy now allowed by the FCC, that same company could own VHF stations in every TV market in 38 states, with the power to influence elections in 76 U.S. Senate races, 182 House races, 38 gubernatorial races and 38 state legislative races, along with countless local races.--Mortimer B. Zuckerman, "Media-merger ruling imperils democracy," The Daily News, July 2, 2003]

Bill Moyers, "Big Media Gets Bigger," AlterNet, October 10, 2003

"Bill Moyers is Insightful, Erudite, Impassioned, Brilliant and the Host of PBS' 'NOW'," Buzzflash, October 28, 2003

Bill Moyers, "Keynote Address to the National Conference on Media Reform," Common Dreams, November 8, 2003

VIDEO: Media Reform Conference

VIDEO: "Does public service broadcasting have a future?," BBC News, January 15, 2004

Ted Turner "My Beef With Big Media: How government protects big media - and shuts out upstarts like me," Washington Monthly, July/August, 2004

"MEDIA GIANTS," PBS

Timothy Karr, "The Big Media Back Story," MediaChannel.org, August 26, 2004

[Rupert Murdoch predicted that, within three years, there would be just three global media corporations--John Pilger, "Australia 's Samidzat," Green Left Weekly, September 28, 2004]

AUDIO: Bill Moyers, "Keynote Address to the National Conference on Media Reform," May 15, 2005

Seth Sutel, "Redstone: Age of Media Conglomerate Over," Associated Press, July 8, 2005

Paul J. Gough, "Emotional Rather blasts 'new journalism order'," Reuters, September 19, 2005

[The U.S. House of Representatives has handed the supporters of Net neutrality a stinging defeat by passing a bill that gives the phone companies almost everything they lobbied for but remains almost mum on the highly charged issue of Internet tolls.

The controversial Communications Opportunity, Promotion and Enhancement Act (COPE), which preserves responsibility for decisions on Net neutrality in the U.S. Federal Communications Commission, was passed late Thursday by a vote of 321 to 101.--"US House Passes Telecom Bill," Red Herring, June 9, 2006]

"Who Owns What on Television?," neatorama.com, July 7, 2008

[Conservatives have expressed alarm in recent months over congressional Democratic efforts to restore the so-called Fairness Doctrine which would mandate politically balanced commentary on the airwaves.--"47% Favor Government Mandated Political Balance on Radio, TV," Rasmussen Reports, August 14, 2008]

Michael Calderone, "Sen. Harkin: 'We need the Fairness Doctrine back'," politico.com, February 11, 2009

Ralph Nader, "Public Broadcasting's Cowardly Executives," counterpunch.org, March 15, 2011

Libby Reinish, "Media Consolidation: The Illusion of Choice," freepress.net, November 22, 2011

VIDEO: Susan P. Crawford, "Captive Audience: The Telecom Industry and Monopoly Power in the New Gilded Age," Yale University Press (December 3, 2012)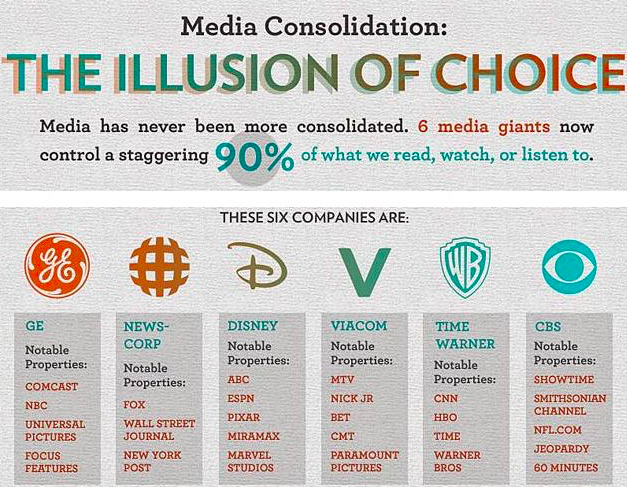 NOTE: "GE does not own NBC (or Comcast or any media) anymore. So that 6th company is now Comcast. And Time Warner doesn't own AOL".
"The remedy for speech that is false is speech that is true. This is the ordinary course in a free society. The response to the unreasoned is the rational; to the uninformed, the enlightened; to the straight-out lie, the simple truth." — United States v. Alvarez, 567 U.S. 709 (2012)
John Pilger, "War by Media and Triumph of Propaganda -- Secrecy, Surveillance and Censorship," counterPunch, December 5, 2014
Sharyl Attkisson, "Manipulation of Media Messages," TEDx University of Nevada, February 6, 2015
Tyler Durden, "Top German Journalist Admits Mainstream Media Is Completely Fake: 'We All Lie For The CIA'," zerohedge.com, March 28, 2016
Paul Craig Roberts, "When They Killed JFK They Killed America," paulcraigroberts.org, May 7, 2016
Amaryllis Fox, "Listen to Your Enemy," AJ+, June 13, 2016
Jordan Riefe, "Journalism Icon I.F. Stone's Words Ring Truer Than Ever in 'All Governments Lie'," truthdig.com, November 11, 2016
Tyler Durden, "Did The BBC Get Caught Fabricating News To Start A War?," zerohedge.com, November 29, 2016
Yanis Varoufakis: Why the rise of a new cloud-based ruling class is crushing democracy, The Institute of Art and Ideas, April 26, 2022

Chris Hedges, "Why America's smartest are being silenced," RT.com, May 2, 2019

"Biden's 'disinformation board' is an unconstitutional thought-police bureau," foxnews.com, May 6, 2022

Charlie Warzel, "Is This the Beginning of the End of the Internet? How a single Texas ruling could change the web forever," foxnews.com, May 6, 2022