[Michael T. Klare is a professor of peace and world security studies at Hampshire College and the author of Blood and Oil: The Dangers and Consequences of America's Growing Dependence on Imported Petroleum.]
Lutz Kleveman, "The New Great Game," Guardian, October 20, 2003
Daniel Howden and Philip Thornton, "The Pipeline That Will Change the World," Independent, May 25, 2005
[Terrorism can be expected to grow with every American act interpretable as imperialistic in the Middle East and Central Asia. The Iraq-to-Turkey pipeline illustrates the problem perfectly. It suffered near daily attacks in 2003.
As for competition over diminishing supplies, therein lies the stuff of nightmares. The Pentagon established a Central Command in 1983, one of five unified commands around the world, with the clear task of protecting the global flow of petroleum. "Slowly but surely," Michael Klare concludes, "the US military is being converted into a global oil-protection service."--Jeremy Leggett, "What they don't want you to know about the coming oil crisis," Independent, January 20, 2006]
Paul R. Dunn, "Islamic Fascism: The Propaganda of Our Times," The Wisdom Fund, September 6, 2006
["As for Iran, the usually accepted official 132 billion barrels is almost 100 billion barrels over any realistic assay. If the higher figure was for real, its oil industry would not be struggling day in and day out to keep output at between 3.0-3.5 million barrels per day . . .
"My World Oil Production Capacity model has predicted that over the next 14 years, present global production of 81 million barrels per day will decrease by roughly 32%, down to around 55 million barrels per day by the year 2020."-- "Why we must take Peak Oil seriously, Money Week, September 13, 2006]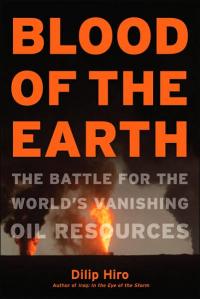 Dilip Hiro, "Blood of the Earth: The Battle for the World's Vanishing Oil Resources," Nation Books (November 30, 2006)
[Demonization serves geopolitical and economic objectives. Likewise, the campaign against "Islamic terrorism" (which is supported covertly by US intelligence) supports the conquest of oil wealth. The term "Islamo-fascism," serves to degrade the policies, institutions, values and social fabric of Muslim countries, while also upholding the tenets of "Western democracy" and the "free market" as the only alternative for these countries.
The US led war in the broader Middle East Central Asian region consists in gaining control over more than sixty percent of the world's supplies of oil and natural gas. The Anglo-American oil giants also seek to gain control over oil and gas pipeline routes out of the region. . . .
Muslim countries possess at least 16 times more oil than the Western countries.--Michel Chossudovsky, "The 'Demonization' of Muslims and the Battle for Oil," globalresearch.ca, January 4, 2007]
Danny Fortson, Andrew Murray-Watson and Tim Webb, "Future of Iraq: The Spoils of War," Independent, January 7, 2007
[The primary interest, and that's true throughout the Middle East, even in Saudi Arabia, the major energy producer, has always been control, not access, and not profit. Profit is a secondary interest and access is a tertiary interest.--Noam Chomsky, "War, Neoliberalism and Empire in the 21st Century," Counterpunch, March 9, 2007]
[Natural gas production is booming from "huge shale beds found throughout North America," reports The New York Times. The improving technology of underground horizontal drilling and fracturing has opened up trillions of cubic feet of gas that had formerly been thought unobtainable.--Jon Basil Utley, "The Coming Energy Abundance: How new technology can lower prices and reshape the global economy," reason.com, September 22, 2008]
Terry Macalister, "Russia, Iran and Qatar announce cartel that will control 60% of world's gas supplies," Guardian, October 22, 2008
F. William Engdahl, "The Geopolitical Great Game: Turkey and Russia Moving Closer," Global Research, February 26, 2009
Vladimir Isachenkov, "Kremlin: Battles over energy may lead to wars," Associated Press, May 13, 2009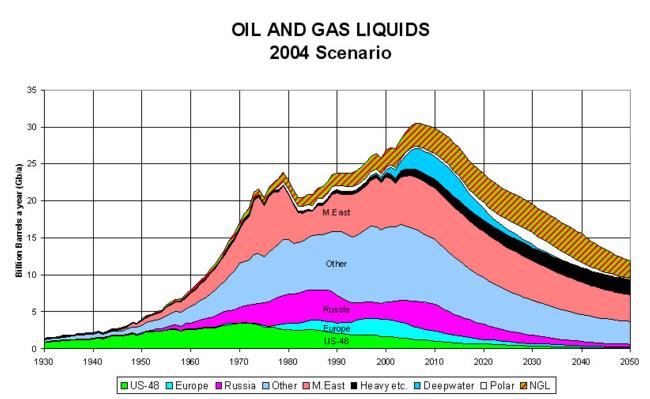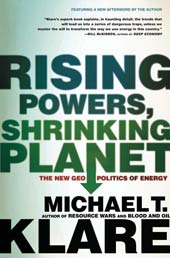 [Even when you add in the 2009 report's projection of a larger increase than once expected in the output of unconventional fuels, you still end up with a net projected decline of 11.1 million barrels per day in the global supply of liquid fuels (when compared to the International Energy Outlook's soaring 2007 projected figures).--Michael T. Klare, "It's Official - The Era of Cheap Oil Is Over: Energy Department Changes Tune on Peak Oil," tomdispatch.com, June 11, 2009]
["There has been lots of talk about a supply peak, but it is good to start talking about a demand peak, and that has huge implications for these companies."--David Teather, "Greenpeace study finds oil companies may be doomed," Guardian, July 27, 2009]
[Dr Birol said that the market power of the very few oil-producing countries that hold substantial reserves of oil - mostly in the Middle East - would increase rapidly as the oil crisis begins to grip after 2010.--Steve Connor, "Warning: Oil supplies are running out fast," Independent, August 3, 2009]
George F. Will, "Awash in fossil fuels," Washington Post, November 21, 2009
[ . . . no one has yet explained how the planet will meet enormous increases in energy demand.--Greg Gordon, "Is the era of oil nearing its end?," McClatchy Newspapers, August 12, 2012]
Tiffany Hsu, "US to become world's largest oil producer by 2020, agency predicts," mcclatchydc.com, November 12, 2012
Kevin Drum, "An Update on Peak Oil," motherjones.com, April 13, 2013
[The United States will surpass Russia and Saudi Arabia to become the world's largest oil producer in 2015, the International Energy Agency forecasts.--Sean Cockerham, "U.S. expected soon to be crowned world's oil king," mcclatchydc.com, November 12, 2013]
"Rise of 'Saudi America' will alter globe, prolong U.S. superpower role," mcclatchydc.com, November 28
Association for the Study of Peak Oil & Gas