CIA Awards Secret Multibillion-Dollar Cloud Contract," nextgov.com, November 20, 2020

"Mohsen Fakhrizadeh: Iran blames Israel for killing top scientist," bbc.com, November 28, 2020

"Israeli Pegasus spyware allegedly used to hack phones of dozens of Al Jazeera journalists in large-scale attack - report," rt.com, December 21, 2020

The Spy in Your Phone, Al Jazeera World, January 6, 2021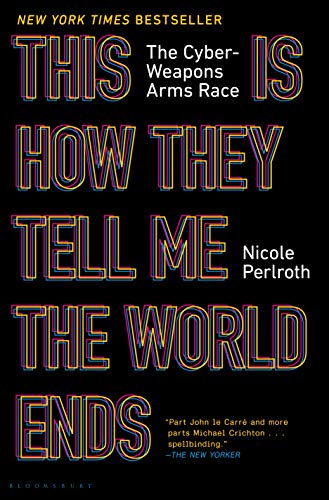 Zero-day: a software bug that allows a hacker to break into your devices . . . For decades, the United States government became the world's dominant hoarder of zero-days . . . Then the United States government lost control of the hoard and the market. (jacket inside) . . .
President George W. Bush needed something to get the Israelis off his back that didn't entail starting World War III. (Chapter 9, p117) . . .
To be fair, we were doing the same in Iran. We had been for years, actually. Under a highly classified program conceived under Bush but acceleratated under Obama -- code named Nitro Zeus -- U.S. Cyber Command started planting time bombs in Iran's communications systems, air defenses, and critical parts of its grid. By June 2019 it was safe to assume that Iran's attacks on U.S. critical infrastructure was Tehran responding in kind. What the security community witnessed that summer was, in effect, mutually assured destruction in real time. (p355) -- Nicole Perlroth, "This Is How They Tell Me the World Ends: The Cyberweapons Arms Race," Bloomsbury Publishing; 1st edition (February 9, 2021)
"Iran says key Natanz nuclear facility hit by 'sabotage'," bbc.com, April 12, 2021
Barkha Dutt, The Pegasus Expose: Indian Media Being Spied On With Israeli Software?, July 18. 2021
"Full text: India Supreme Court order on Pegasus snooping," indianexpress.com, October 27, 2021
Supreme Court on Pegasus, its far reaching significance for liberty & free press, ThePrint, October 27, 2021
Russia busts notorious ransomware group wanted by US, RT America January 18, 2022

[Pegasus played a critical role in securing the support of Arab nations in Israel's campaign against Iran and negotiating the Abraham Accords--Michael Levenson, ""FBI Secretly Bought Israeli Spyware and Explored Hacking U.S. Phones," nytimes.com, Jaunary 28, 2022]

Elon Musk - "Something MAJOR Is About To TAKE PLACE!" Inner Vision, Jaunary 31, 2022

Mara Hvistendahl, Sam Biddle, "WHY HAVE 14 OF 15 U.S. CABINET DEPARTMENTS BOUGHT PHONE UNLOCKING TECHNOLOGY?," theintercept.com, February 8, 2022

Sam Biddle and Jack Poulson, "AMERICAN PHONE-TRACKING FIRM DEMO'D SURVEILLANCE POWERS BY SPYING ON CIA AND NSA," theintercept.com, April 22, 2022