Now that the Cold War is becoming a memory, America's foreign policy establishment has begun searching for new enemies. . . . Topping the list of potential new global bogeymen, . . . are the Yellow Peril, the alleged threat to American economic security emanating from East Asia, and the so-called Green Peril (green is the color of Islam).--Leon T. Hadar, "The 'Green Peril': Creating the Islamic Fundamentalist Threat," cato.org, August 27, 1992
Enver Masud, "A Clash Between Justice and Greed, Not Islam and the West," The Wisdom Fund, September 2, 2002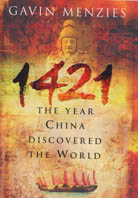 "1421: The Year China Discovered America?," The Wisdom Fund, January 13, 2003
Mohsin Ali, "Confronting the Quiet Rise of China, India," The Pilot, April 6, 2008
Pepe Escobar, "BRICS Against Washington Consensus," Asia Times, July 15, 2014
[The toll the war inflicted on China is still being calculated, but conservative estimates number the dead at 14 million at least (the British Empire and United States each lost over 400,000 during the Second World War, and Russia more than 20 million)--Rana Mitter, "Forgotten Ally: China's World War II, 1937-1945," Mariner Books; Reprint edition (September 2, 2014), p. 5]
[In 1997, roughly 20 years after China emerged from the isolation of the Mao years, the Economist bemoaned the popularity of a quote attributed to Napoleon Bonaparte. "Let China sleep," he allegedly pronounced, "for when she wakes she will shake the world." From 1977 to 1997, China's GDP more than quadrupled, its foreign policy grew more confident, and in 1995, in a show of aggression, Beijing fired missiles across the Taiwan Strait to intimidate the government in Taipei. "To observers of China, dazzled by its startling economic growth and ever-increasing power," the Economist wrote, "Napoleon's aphorism has seemed irresistibly apposite. . . .
Whether Beijing manages to maintain social stability, build a sustainable economy, and appease a population of 1.4 billion will determine how China affects the rest of the world."--Isaac Stone Fish, "Crouching Tiger, Sleeping Giant," Foreign Policy, January 19, 2016]
John Pilger, "The Coming War on China," counterpuch.com, December 2, 2016
"China in Africa: An African Perspective," Paulson Institute, March 25, 2019
"What is the human cost to China's economic miracle?" Al Jazeera, March 15, 2019
[Rather than unseating the United States as the world's premier superpower, Chinese foreign policy in the coming decade will largely focus on maintaining the conditions necessary for the country's continued economic growth.--Gordon Watts, "Enter the dragon and the rise of China's 'empire'," asiatimes.com, November 26, 2019]
Minxin Pei, "China's expensive bet on Africa has failed," nikkei.com, May 1, 2020
"Tibet is China's ticket to hegemony," Caspian Repoart, May 29, 2020
[The daily goal is Xiaokang, meaning modest prosperity for all. The ultimate goal is Datong. . . .
Chinese people's democratic communism-socialism is advancing, prospering and getting richer, without having to invade, occupy, exploit and enslave other countries, which is the only way global capitalism can survive.--Jeff Brown, "China Seeking Xiaokang, Modest Prosperity For All," puntopress.com, July 29, 2020]
Martin Jacques, "From Follower To Leader: The Story Of China's Rise", September 21, 2020
Wolff Responds: US Capitalism's Fake News on Iran and China, October 3, 2020
MK Bhadrakumar, "Russia and China cementing an enduring alliance," asiatimes.com, October 11, 2020
George Friedman, The Next 50 Years, October 16, 2020

At a glance: The foundation of China's economic transformation, CGTN, November 4, 2020

Peter Zeihan on China | 2020 Interview, November 9, 2020
Debate: It's Time for the West to Get Tough with China, Intelligence Squared, December 3, 2020
Richard Hanania, "China's Real Threat Is to America's Ruling Ideology," palladiummag.com, December 14, 2020
Unbreakable China? RT, December 20, 2020
Blaming China For US Poverty And The Broken American Dream, CNA Insider, January 13, 2021
Michael Wood, How China Got Rich, January 13, 2021

Assault on U.S. capitol: What it means outside the U.S., CGTN, January 13, 2021

China's Modern Wonders | Amazing Architecture, RM&T, January 24, 2021

David P. Goldman, "Digital yuan could bust the United States: New joint venture could denote end of dollar's role as dominant medium of international exchange," asiatimes.com, February 6, 2021

Here Is Why India Hates China, Difference Frames the World, February 23, 2021

China's New Silk Road | The Huge Rail Project | Economy of China | Railroad To Europe | World Trade, March 23, 2021

Elon Musk About China, March 24, 2021

How China's Economy Actually Works, Institute for New Economic Thinking, April 21, 2021

William Pesek, "Alibaba founder is back in Xi Jinping's good books as he helps to drive China's digital currency revolution," asiatimes.com, April 27, 2021

AMAZON.COM -- India vs China: Why They Are Not Friends Kanti Bajpai and Kishore Mahbubani, Huge India-China Power Gap, ThePrint, June 20, 2021

Will China become the centre of the world economy? Financial Times, June 21, 2021

How Western Failures Are Fueling China's Rise, Bloomberg Quicktake, June 30, 2021

Global Capitalism: The Challenge of China, d@w, July 21, 2021

"How China's past shapes Xi's thinking - and his view of the world," bbc.com, October 26, 2021

How The Threat Of China Was Made In The USA, AJ+, Januaury 26, 2022

Ian Bremmer, "What the war in Ukraine means for the global order," ted.com, March 11, 2022

India is a Retreating Image in China's Rear-View Mirror": Shyam Saran on How China Sees India, The Wire, June 1, 2022