["About 10 days after 9/11, I went through the Pentagon, and I saw Secretary Rumsfeld and Deputy Secretary Wolfowitz. I went downstairs just to say hello to some of the people on the Joint Staff who used to work for me, and one of the generals called me in. . . . He says, "We've made the decision we're going to war with Iraq." This was on or about the 20th of September. . . .

So I came back to see him a few weeks later, and by that time we were bombing in Afghanistan. I said, "Are we still going to war with Iraq?" And he said, "Oh, it's worse than that." . . . "This is a memo that describes how we're going to take out seven countries in five years, starting with Iraq, and then Syria, Lebanon, Libya, Somalia, Sudan and, finishing off, Iran."

--Gen. Wesley Clark, "'Seven Countries in Five Years'," democracynow.org, March 2, 2007]

John Pilger, "The Invisible Government," June 16, 2007

Sheldon Richman, "Why They Hate Us," The Future of Freedom Foundation, June 27, 2007

[That climate makes it easy to lose sight of the fact that the majority of mainstream Muslims hate terrorism and violence as much as we do--John L. Esposito, "Want to Understand Islam? Start Here," The Washington Post, July 22, 2007]

"Regime Change: 'Seven Countries in Five Years'," The Wisdom Fund, October 12, 2007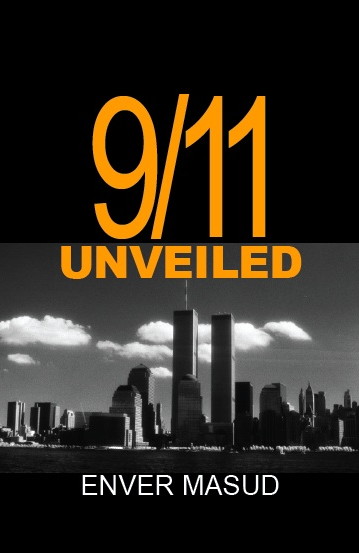 "Bush Administration Exploited Terror Plots For Political Gain," Huffington Post, February 23, 2008
"American Patriots: Muslims Didn't Do 9/11," The Wisdom Fund, September 11, 2011
Trevor Aaronson, "How the FBI's Network of Informants Actually Created Most of the Terrorist Plots 'Foiled' in the US Since 9/11," Mother Jones, October 9, 2011
John Feffer, "Crusade 2.0: The West's Resurgent War on Islam," City Lights Publishers (March 20, 2012)
Mehdi Hasan, "Islam Is A Peaceful Religion," Oxford Union, July 3, 2013
Mehdi Hasan, "What the Jihadists Who Bought 'Islam For Dummies' on Amazon Tell Us About Radicalisation," huffingtonpost.co.uk, August 21, 2014
War on Afghanistan, Iraq, Libya: Craig Murray, former UK ambassador, speaks out, September 17, 2014
Ted Galen Carpenter, "Moving Beyond Self-Serving Myths: Acknowledging the Principal Cause of Radical Islamic Terrorism," cato.org, December 14, 2015
Paul Street, "An Idiot's Guide to Why They Hate Us," counterpunch.org, December 22, 2015
Chris Hedges, "The American Empire: Murder Inc," truthdig.com, January 3, 2016
Adam Johnson, "U.S. Dropped 23,144 Bombs on Muslim-Majority Countries in 2015," alternet.org, January 8, 2016
[colonialism and imperialism are two most deadly forms of terrorism--Andre Vltchek, "How the West Creates Terrorism," counterpunch.org, January 22, 2016]
[According to retired Colonel Lawrence Wilkerson, a Vietnam veteran who served as chief of staff for Secretary of State Colin Powell . . . "The things they do seem like heinous acts of terrorism to us, but in fact that is the only option we've left them with."--Vegas Tenold, "The Untold Casualties of the Drone War," rollingstone.com, February 18, 2016]
[They don't hate 'our freedoms.' They hate that we've betrayed our ideals in their own countries--Robert F. Kennedy, Jr., "Why the Arabs Don't Want Us in Syria," politico.com, February 22, 2016]
[All the major world faiths produce violent people. In the Rwanda genocide of the 1990s, Christian Hutus murdered between 500,000 and 1 million other people, and the Christian churches were deeply involved in enabling this slaughter.--Juan Cole, "How Not to Talk About Muslims After a Terrorist Attack," truthdig.com, March 23, 2016]
[Islamic extremism was virtually unknown fifty years ago and suicide bombings were inconceivable.--Gary Leech, "Islamic Extremism is a Product of Western Imperialism," counterpunch.org, March 23, 2016]
Stephen M Walt, "Monsters of Our Own Imaginings," foreignpolicy.com, March 24, 2016
[connecting terrorism to Western intervention could spark a serious self-examination--Joe Lauria, "Why We're Never Told Why We're Attacked," consortiumnews.com, April 9, 2016]
Fareed Zakaria, "Why they hate us," cnn.com, June 20, 2016
Editorial Comment: Fareed makes some valid points, but his conclusions are only partially correct because:
The State of Infinite War Will Not Stop,", RT, August 26, 2016
"American Empire: An Act of Collective Madness," CPT, September 17, 2016
Murtaza Hussain and Cora Currier, "U.S. Military Operations Are Biggest Motivation for Homegrown Terrorists, FBI Study Finds," theintercept.com, October 11, 2016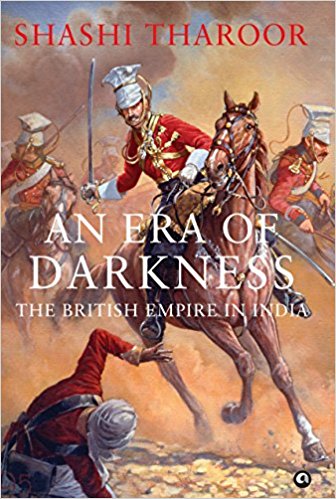 Shashi Tharoor, "An Era of Darkness: The British Empire in India," Aleph Book Company (October 27, 2016)
[The U.S. dropped an average of 72 bombs every day - the equivalent of three an hour - in 2016--F. Brinley Bruton, "U.S. Bombed Iraq, Syria, Pakistan, Afghanistan, Libya, Yemen, Somalia in 2016," theintercept.com, January 9, 2017]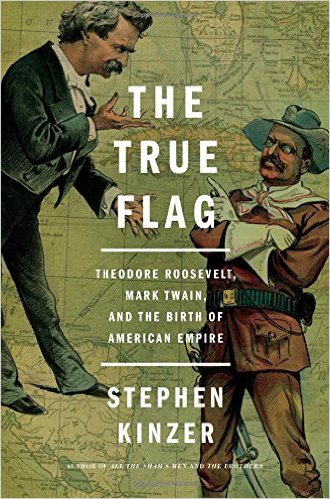 [The United States, McKinley argued, could not possibly tyrannize faraway lands, as European powers did, because the tyrannical impulse is foreign to America's character and tradition. He said that since the United States set its foreign policies with "unselfish purpose," its influence in the world could only be benevolent. The essential goodness of the American people, he argued, is the supreme and sole necessary justification of whatever the United States chooses to do in the world.--Stephen Kinzer, "The True Flag: Theodore Roosevelt, Mark Twain, and the Birth of American Empire," Henry Holt and Co. (January 24, 2017) p.132]
Max Blumenthal, "From Libya to Manchester, Western Intervention Endangers Civilians," therealnews.com, May 30, 2017
[In which of the countries we have attacked or invaded in this century -- Afghanistan, Iraq, Syria, Libya, Yemen -- are the people better off than they were before we came?
And we wonder why they hate us.--Patrick J. Buchanan, "Are America's Wars Just and Moral?," antiwar.com, July 25, 2017]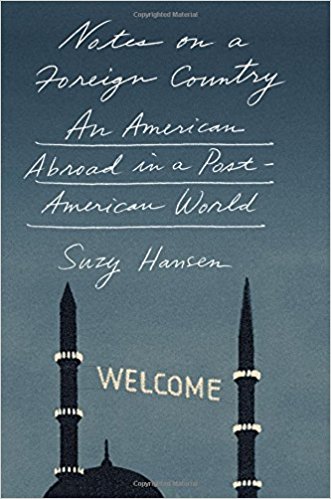 Suzy Hansen, "Notes on a Foreign Country: An American Abroad in a Post-American World," Farrar, Straus and Giroux (August 15, 2017)
[Why didn't 9/11 change anything? Partly because unlike Pearl Harbor, terrorism wasn't and isn't an existential threat. Yes, it's scary; but you had to be an idiot to think that there was any risk of an Islamic takeover of the West.--Paul Krugman, "The Day Nothing Changed," nytimes.com, September 11, 2017]
[Since World War II, during a supposed golden age of peace, the United States military has killed some 20 million people, overthrown at least 36 governments, interfered in at least 82 foreign elections, attempted to assassinate over 50 foreign leaders, and dropped bombs on people in over 30 countries.--David Swanson, "List of U.S. Wars and Hostile Actions," davidswanson.org, September 16, 2017]
Pankaj Mishra, "How colonial violence came home: the ugly truth of the first world war," theguardian.com, November 10, 2017
Jon Basil Utley, "The Lies Behind America's Interventions," theamericanconservative.com, April 25, 2018
[There is no historical example of an imperial power renouncing its interests in compliance with a paper agreement. It only abides with agreements when it has no other options.--James Petras, "Imperial Road to Conquest: Peace and Disarmament Agreements," informationclearinghouse.info, April 30, 2018]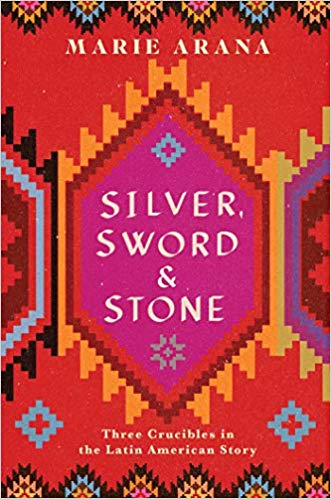 Marie Arana, "Silver, Sword, and Stone: Three Crucibles in the Latin American Story," Simon & Schuster (August 27, 2019)