Enver Masud, "Regime Change American Style," The Wisdom Fund, February 15, 2001
Richard F. Grimmett, "Instances of Use of United States Armed Forces Abroad, 1798-2010," Congressional Research Service, March 10, 2011
Stephen M. Walt, "The Myth of American Exceptionalism," Foreign Policy, November 2011
John Pilger, "War by Media and Triumph of Propaganda," counterPunch, December 5, 2014
Stephen Kinzer, "The CIA's Holy War," brown.edu, June 2016
"Venezuela Coup Made in America, Built on Lies," The Wisdom Fund, January 29, 2019
Ben Swann, "US would never allow Hong Kong-style protests," RT.com, August 14, 2019
"How US (not Russia) stole an election," RT.com, August 16, 2019
"John Pilger: We Are in a WAR SITUATION with China!" RT, August 22, 2019
"Who is behind the protests in Hong Kong," Al Mayadeen TV, August 24, 2019
Matthew Campbell, "What Happens to Hong Kong When 'One Country, Two Systems' Expires in 2047," bloomberg.com, August 27, 2019
"Failing economy forces frustrated Hong Kong youth to the streets," RT America, August 28, 2019
"Are these the men behind the Hong Kong protests?" RT America, September 5, 2019 -- Hong Kong used to represent 40% of China's GDP. It now represents 2% of China's GDP.
Pepe Escobar, "On the ground, feeling the pulse of Protest Hong Kong," asiatimes.com, September 16, 2019
[we have clearly deployed the usual suspects in Hong Kong, such as the National Endowment for Democracy, which has suddenly become very active under the dubious auspices of teaching the young citizens of Hong Kong about democracy.--Col. Lawrence Wilkerson and Emanuel Pastreich, "The True Geopolitical Significance of the Hong Kong Protests," greanvillepost.com, September 18, 2019]
[In the months from early June to early August, the Hong Kong police had to face protesters numbering in the millions, or at least that was what the media reported. Yet the police with great restraint made just 420 arrests.
By contrast, New York's finest arrested 700 during the one-day Occupy Wall Street protest on October 1, 2011, and the size of that crowd was in the thousands, not millions. If the mayhem that has happened in Hong Kong took place in New York, rivers of blood would have covered the pavement and city jails and hospitals would have overflowed with victims.--George Koo, "An alternative view of HK protests," asiatimes.com, October 2, 2019]
"HK & China: what lies ahead for the "one country, two systems" principle?," CNA, November 5, 2019
Yan Zhao, "Hong Kong democrats achieve stunning polls victory: Pro-democracy movement 'wins 388 seats vs 59 for establishment' after record 71% turnout," asiatimes.com, November 24, 2019
Twinnie Siu and Jessie Pang, "Landslide democratic win puts pressure on leader of Chinese-ruled Hong Kong," reuters.com, November 24, 2019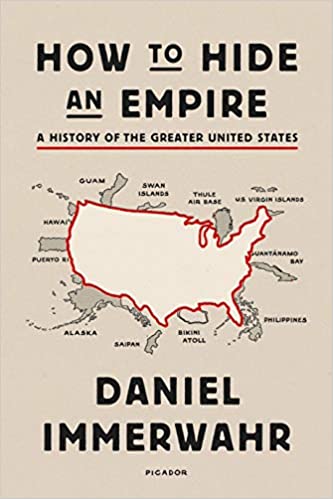 Patrick J. Buchanan, "In Hong Kong, It's US vs. China Now," antiwar.com, December 3, 2019
Chapter 11, Warfare State--Daniel Immerwahr, "How to Hide an Empire: A History of the Greater United States," Picador; Reprint edition (March 3, 2020)
"Another Hong Kong," CGTN, May 23, 2020
[TWF.org Editor: Would the U.S. permit such "protests" in DC?]
VIDEO: "How Hong Kong beat coronavirus and avoided lockdown," CNBC International, June 29, 2020
[will provide Beijing with enforcement powers to prohibit and punish acts of secession, subversion, terrorism and foreign interference--Nile Bowie, "China drops the gauntlet with new HK security law," asiatimes.com, June 30, 2020]
[Assange is currently in HMP Belmarsh facing extradition to the United States where he has been indicted under the Espionage Act for Wikileaks' 2010-11 publications of the Iraq War Logs, the Afghan War Diaries, and State Department cables.--Dominic Ponsford, "Press freedom groups sign joint letter calling for immediate release of Julian Assange," asiatimes.pressgazette.co.uk]
National security law for HK: A long-overdue task, CGTN, July 4, 2020
Ronny Tong, Executive Council, Hong Kong, BBC HARDtalk, July 7, 2020
Tea, drugs and war: Hong Kong's British history explained, BBC News, July 14, 2020
How Britain Got China Hooked on Opium, Empires of Dirt, VICE, August 29, 2020